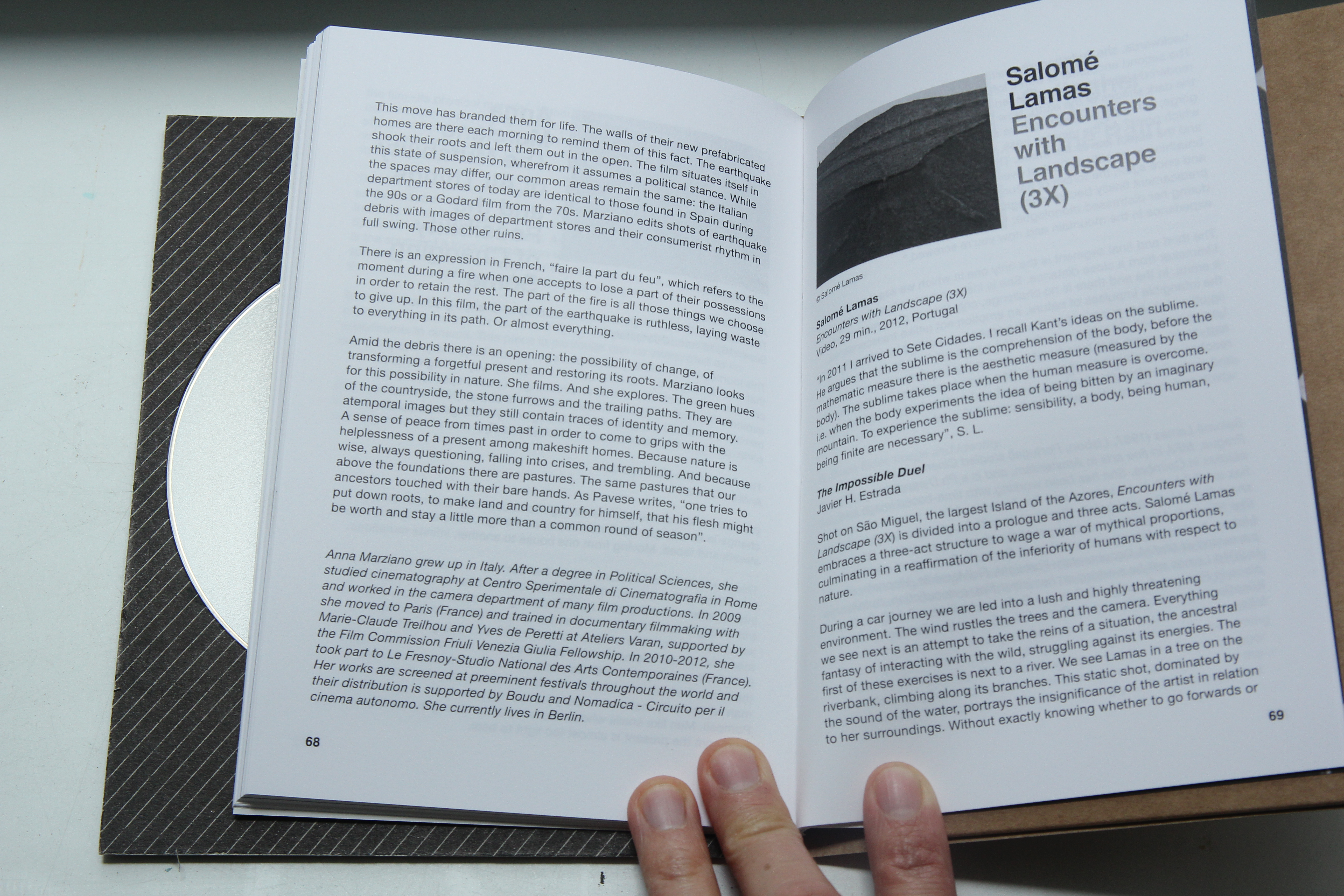 original title:
de la mutabilité de toute chose et de la possibilité d'en changer certaines

idea, camera, sound, editing: AM
prod. le fresnoy studio national
filmed on super16mm - 16min.

sound editing and mix: simon apostolou

world premiere TIFF wavelenghts and media city film festival 2012, european premiere torino film festival.
screened at wexner center of arts, palais de tokyo paris, ann arbor film festival, FIPA biarritz, les ecrans documentaires arceuil, LABoral gijon, uniondocs NY, FRAC nord pas de calais, image forum festival tokyo, transart institute.




~ the mutability of all things and the possibility of changing some
This journey into mutability takes place in Abruzzi, Italy, in a territory that was damaged by the earthquake in 2009. By way of fragments of conversations, archive material and readings in public spaces, the film explores the becoming of individual and social bodies. - AM
Cinemascope online, Andrea Whyte
"Anna Marziano's
De la mutabilité de toute chose et de la possibilité d'en changer certaines
takes the filmmaker to Abruzzi, Italy, the site of a devastating earthquake in 2009. Capturing the damaged structures and landscapes of the town, Marziano's film moves beyond documentary observation as it actively participates in a project to rejuvenate the public sphere of the town. By having locals read passages from a variety of the texts she brought along in her journey, Marziano unites her subjects through the creation of this film, aligning their private experiences and having them speak again as a community. In the question-and-answer period following the screening, Marziano lamented the loss of public spaces that the town experienced through the earthquake; schools, community centres and churches were destroyed, and residents had so far only focused on rebuilding their private dwellings. Marziano attempted to propel the desire for revitalizing communal spaces to the forefront, seeing the return to the public sphere as necessary to a return to normality for people whose lives had been severely disrupted. Through working directly with her subjects on this film, Marziano was able open up a dialogue about change and how we adapt. What results is a quiet and inspiring film on the effects of uncontrollable change, and the small actions individuals may take to reclaim their lives and overcome the scars of their recent history".
︎︎︎
︎︎︎